Installations
Decorative Concrete & Concrete Resurfacing Services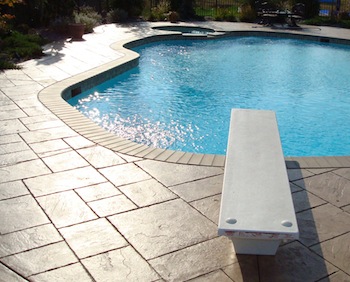 Creative Concrete LLC will guide you through the process of installing new decorative concrete for homes, business and for swimming pool patios as well as for re-surfacing and staining existing concrete.
Decorative Concrete Services
Textured concrete
Stamped concrete
Colored concrete
Stained concrete
Pavers
Retaining Walls
Resurface Existing Concrete
Interior Concrete Resurfacing
Exterior Concrete Resurfacing
Residential Decorative Concrete Applications
Resurface existing outdoor concrete or new decorative stamped concrete installations for pool decks, patios, and driveways. Indoor concrete resurfacing of basements, garages, sun rooms and three season rooms. Pavers for driveways, walkways, patios and sidewalks. Retaining walls built to coordinate with the decorative concrete.
Commercial Decorative Concrete Applications
Commercial services for the installation of decorative concrete and resurfacing concrete for a variety of commercial applications: building entryways, walkways, patios, driveways, commercial concrete pool patios, playgrounds and water play areas. Solutions to address slip and fall requirements and mold resistent products.
Interested in having us install your next concrete project?
Check out our Material Selection page to pick out the type, texture, and color concrete for your home improvement. Click on the Gallery button to the right to view some of our completed projects.