Residential Decorative Concrete Pool Patio Installer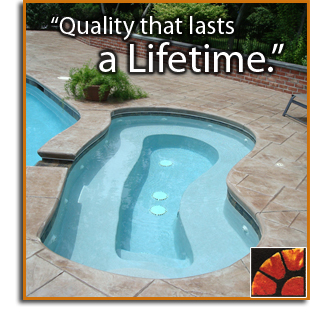 Decorative concrete installation and resurfacing services for residential swimming pool patios, decks, and backyard walkways.
Decorative Concrete Pool Patio Installations
If you are installing a swimming pool and want a decorative concrete patio, Creative Concrete LLC will guide you through the selection and installation process.
If you are building a concrete pool you need to know the procedure to allow for proper scheduling of your decorative concrete pool patio. After the pool is dug and the shell is gunited please call to schedule an appointment and estimate. We will layout the pool patio and calculate the cost and square footage.
The following items need to be completed prior to pouring the pool patio:
Pool Equipment and Plumbing
Gas Line needs to be installed and inspected (if under decking)
Electrical needs to be installed and inspected.
Tile and coping needs to be installed
Any slides, deck jets need to also be installed prior to pouring of the pool decking
Resurface Concrete Pool Patio
Thinking about resurfacing your existing concrete pool patio/deck?
Creative Concrete LLC will evaluate your existing concrete, listen to your needs and provide you with guidance through the resurfacing pool deck selection process.
We are an authorized installer for Blue Haven Pools, Central Jersey Pools, Arista Pools, and The Pool and Spa Place as well as many local pool builders.